This year, the family and I headed to Hilton Head Island in South Carolina. What can I say except we plan to go back next year? A gorgeous beach, lots to do outside of the beach (good for pale-skinned, light-eyed redheads like me who burn under a 60 watt bulb!) with all the comforts of home in the gorgeous condo we rented.
Now here in NY, we live in a ranch style house–no stairs. So naturally, Nick had to spend time playing on the stairs in the unit.
One of the highlights was a cruise to see Atlantic bottlenose dolphins. I took my regular film camera and let Phil use the digital. Naturally, he'd never bothered to read the directions so didn't know how to use the digital camera. That means you'll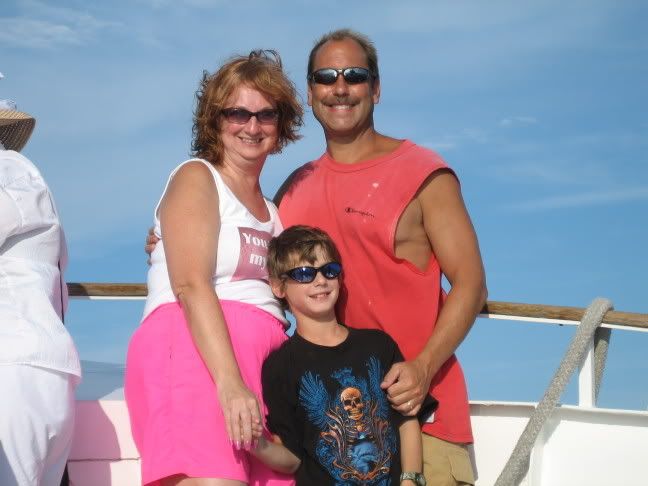 have to wait until I get my film developed to see the dolphins. But once Tori took the digital away from dear ol' Dad (with only a minimum of eye-rolling) she got some great shots of us on the ship.
You can actually see the wind whipping my hair.
And in case you're wondering, my tank says,
"You interrupted my love scene for this?"

And yes, the photo album wouldn't be complete without a shot of Tori and I doing something goofy.
What can I say? Like mother, like daughter.